Radinas on Campus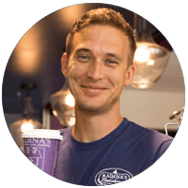 Zac,
Director of Campus Operations
We are pleased to serve at Kansas State University in 4 campus buildings.
Hours vary by campus location - please see below.
Visit Radinas on Campus

Leadership Studies Building
1370 Mid-Campus Dr

Mon-Thu: 7:00am - 6:00pm
Fri: 7:00am - 5:00pm
Engineering Building
1701 B Platt Street

Mon-Fri: 8:00am - 2:00pm
Student Union
918 N. 17th St.

Mon-Fri: 7:30am - 5:00pm
College of Business Administration
1301 Lovers Lane

Mon-Fri: 7:00am - 3:00pm